Get Our FREE Special Report:
Business owners are making these mistakes day in, day out. The likelihood is that you're making a number of them too. Simple, easy-to-apply and ready-to-go corrections to these financial, tax and marketing mistakes could significantly improve your bottom line.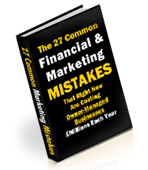 This is 66 pages of pure gold to any ambitious business owner or manager who is looking to build a better business.
To get our FREE report, click here to download the PDF.